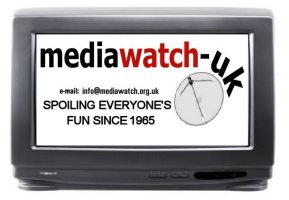 Post News
Welcome to MediaWatch-UK
On March 29, 2022 by admin
Welcome to the MediaWatch-UK website. MediaWatch-UK is a collective of grumpy old men and frumpy old women singularly dedicated to spoiling the fun of the rest of the British population. Please take time to browse through our site and read about our campaigns. For members of the bigoted right wing press who are having trouble making up enough anti-gypsy and anti-asylum seeker stories to fill their pages, our press page contains a wide range of outraged and reactionary stories that you can seize on to.
This service is open to Sun journalists as well, if that is, they can get over the moral duplicity of complaining about the filth on TV in their editorials whilst simultaneously exploiting images of topless females on their pages every day to sell more papers.
While you're here why not spend some time learning about us and our founder Saint Mary Whitehouse. If, like us, you spend all your spare time reading the Daily Mail and being outraged at life in general why not join us and our campaign against popular culture.
Below is information on how to contact various organisations to moan about the decline of civilisation.
Calendar
December 2023
M
T
W
T
F
S
S
1
2
3
4
5
6
7
8
9
10
11
12
13
14
15
16
17
18
19
20
21
22
23
24
25
26
27
28
29
30
31